Security
NOD32 is the world's fastest and most effective unified anti-threat protection against known and unknown threats, as proven in many years by the Virus Bulletin Labs.
With ThreatSenseTM and ThreatSense.Net technology, NOD32 can detect and respond to over 90% of new or unknown threats proactively!
NOD32 is the World Record holder of Virus Bulletin VB100% awards for Threat Detection, and has been proven up to 10x faster than conventional solutions.
Since September 2004, we have been an Authorised Partner of ESET in South Africa. Contact us for a free quotation.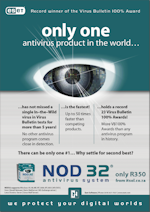 (Click to enlarge)
Search Google