Software: ShutOff 2000
ShutOff 2000 v2.8.8 is the latest version of a Windows® utility that allows the user up to ten different ways to shut down a PC, a delayed shutdown feature, plus the ability to download updates from the Internet.
ShutOff 2000 works in all versions of Microsoft Windows since Windows 95, with some very minor usability issues in Vista.
South African Users: You can pay just R10.00 via EFT using PayFast. Use the Buy Now button below!
Credit Card and International Users: You can pay just $0.99 via PayPal. Yes, that's only 99 US cents! Use the PayPal button below.
Your payment can take up to two (2) business days to process. Please be patient, as you will receive a registration key within that time.
BREAKING NEWS
ShutOff 2000 (v3.0.0) is in development. This version will enable complete unattended shutdowns. Find out more about ShutOff 2000 v3.0.0.
SPECIAL PROMOTION
Until the release of ShutOff 2000 v3.0.0, E-llusion Interactive will be offering ShutOff 2000 v2.8.8 for the ridiculous price of $0.99 (yes, only 99 cents), and you qualify for a FREE upgrade to a single-user licence of ShutOff 2000 v3.0.0 upon its release.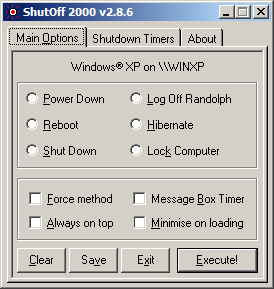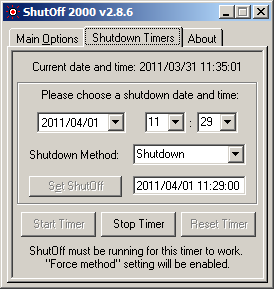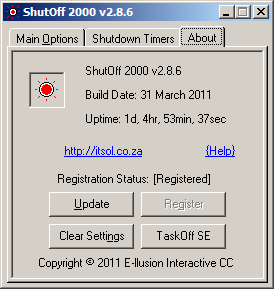 Latest version 2.8.8 was released on 20 August 2014. Find out more about this new version.
Download the ShutOff 2000 Portable Application Description (PAD).
To purchase ShutOff 2000, you must download it, and then click on the PayPal payment option. Upon payment, you will be emailed a registration key in due course by one of our technical staff. This can take as long as two working days.
"Ease of use is ShutOff 2000's biggest asset." - CNET Download.com.
"ShutOff 2000 [v2.5.0] shut down the system running Word and Outlook in just seven seconds. That's 81% faster and 29 seconds saved." - APC Magazine.
"Extremely easy to use!!!" - One of the thousands of people who have downloaded ShutOff 2000.
"Reliable" - One of the many people who have registered ShutOff 2000 for just $0.99.
Search Google